DON MATHESON
We have had several very sad years of caregiving and family bereavements, and the news of Don Matheson passing away on 29th June 2014 shocked us and left us feeling like we had lost yet another member of our family, so close have the Land of the Giants cast been over the years.
There are so many fine things to remember about Don. His warmth, his humour, his respect for family, friends, colleagues and fans, his considerable catalogue of acting work, and not the least for readers here, his portrayal of Mark Wilson in Land of the Giants. Don was the first "face" of Land of the Giants, appearing in the 1967 promotional reel that Irwin Allen produced to sell the concept of the show. Irwin Allen then cast him as businessman and engineer Mark Wilson in the series which ran for two years. Don gained far more than most from appearing in Land of the Giants as this is where he met his future wife and lifelong friend Deanna Lund. The couple married shortly after the series finished and had a daughter, Michele, in the early 1970s.
As early Giants Log members will know, Don joined us for a very special reunion of Land of the Giants cast members in 1991, and his humour shone through that day as he regaled stories of times past on the set of the show. The energy generated from that reunion and Giants fandom in the early 1990s lead to the cast coming together for several conventions in the following years and Don was always a hit in the question and answer sessions with great banter between him and his cast mates.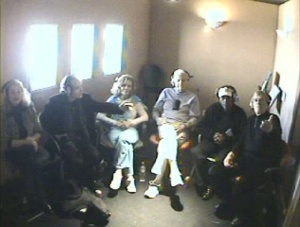 In 1995, Don joined cast members in The Fantasy Worlds of Irwin Allen documentary which paid homage to the Land of the Giants creator. This was followed by gatherings at the 1998 Return to Earth convention which celebrated the new Lost in Space movie, and several visits to the Hollywood Show in Los Angeles and Las Vegas and the Chiller Theatre convention in New Jersey.
With the release of Land of the Giants on DVD, the series gained a new generation of fans, and the cast all gathered together in April 2011 for a special commentary recording for the British DVD release. All six of the cast sat in a recording studio, whilst Giants Log watched and listened in via Skype, and discussed and recalled their memories of making the pilot episode, The Crash. This unique occasion will be a lasting snapshot of the Giants "family", of which Don was an integral part, laughing and having fun together.