WELCOME TO GIANTS LOG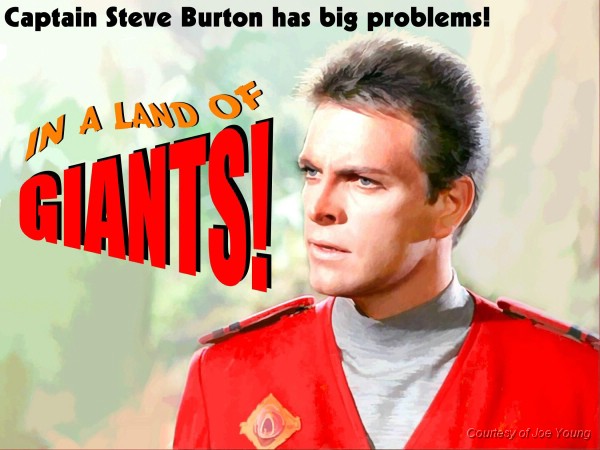 A warm welcome to Giants Log which is a long running society dedicated to preserving the classic television show, Land of the Giants. Established in 1990, Giants Log and the Irwin Allen News Network (IANN) have published and contributed to many newsletters and books with articles, interviews, pictures, events, news, and decades of research. With the emergence of the Internet, over the past 20 years we have been able to share our enthusiasm for, and knowledge and collections on the subject of Irwin Allen and his television and movie masterpieces around the globe almost instantly.
Land of the Giants lives on nearly 50 years after it was first produced with continued broadcasts on both sides of the Atlantic, and DVD releases worldwide. There are fans in every corner of the planet and with them a history of how Irwin Allen brought fun to their screens and inspiration into their lives.
If you would like to help us in our ongoing research and efforts in keeping Land of the Giants on the "map", please do drop us a line. We will be adding more features on this site over the coming weeks, months and years, and appreciate any help you can offer with research, pictures, art, reports and anything else on Land of the Giants.
NEWS HEADLINES
LAND OF THE GIANTS 50TH ANNIVERSARY
Land of the Giants celebrates the 50th anniversary of the premiere episode The Crash broadcast on Saturday 22nd September 2018. The original TV Guide listing from Sunday 22nd September 1968 is shown below.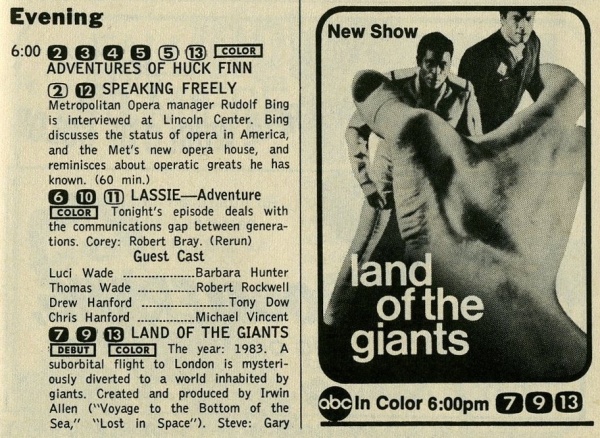 DEANNA LUND - CAREER SLIDESHOW
In tribute to Deanna Lund and the wealth of performances she gave us, we have created a new picture gallery covering her career which spanned over half a century. Feel free to browse the gallery and also to view it as a slideshow.
IN LOVING MEMORY - DEANNA LUND
Our Valerie in Giantland
It is heartbreaking to have to write the following words and to let you know that on Friday 22nd June 2018, our dear and beautiful friend Deanna Lund passed away. Our hearts go out to all her family and friends at this very sad time. We have promised that we will help to preserve her legacy through her website and beyond and friends and fans around the world are welcome to contribute through the Irwin Allen News Network (IANN) site.
The Land of the Giants cast have all been like family for everyone who has travelled in time with them over the past 50 years. In this 50th Anniversary year of Land of the Giants, this is an even greater loss as we all try to commemorate the show which brought us this inspiring actress, Deanna Lund.
Deanna's long term fan organisation Friends of Deanna Lund, run by Dr. Fred Eichelman, has prepared a special obituary in Deanna's memory for her website.
Hollywood Reporter tribute to Land of the Giants star Deanna Lund
VALERIE IN GIANTLAND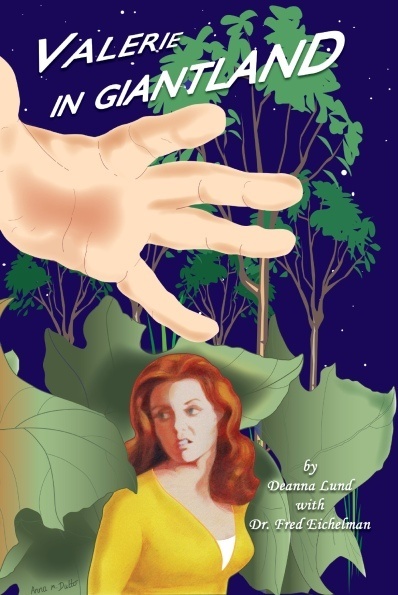 Deanna Lund's fan organisation Friends of Deanna Lund has just updated her 1992 novel Valerie in Giantland: Valerie Ames Scott's Diary as part of the 50th Anniversary Celebration of Land of the Giants. The revised book features a new colour cover and an epilogue chapter. Copies are available through Friends of Deanna Lund at signings and through Amazon.
INFINITY 2 JUNE 2017 - LAND OF THE GIANTS ARTICLE
Available in newsagents such as WH Smith is the latest issue 2 of the Infinity sci-fi magazine. This issue features a six page article on Land of the Giants "Good Things Come in Small Packages" by author Jon Abbott.
RODGER E. MAUS
We have learned the very sad news that Emmy award winning and Oscar nominated Art Director and Production Designer Rodger E. Maus, who worked for many of Irwin Allen's productions, passed away last month (16th March 2017) at the age of 84. You only have to browse around our site to see the results of his work, be it the design of the Lost in Space Space Pod or the sub-orbital spaceship, the Spindrift, from Land of the Giants.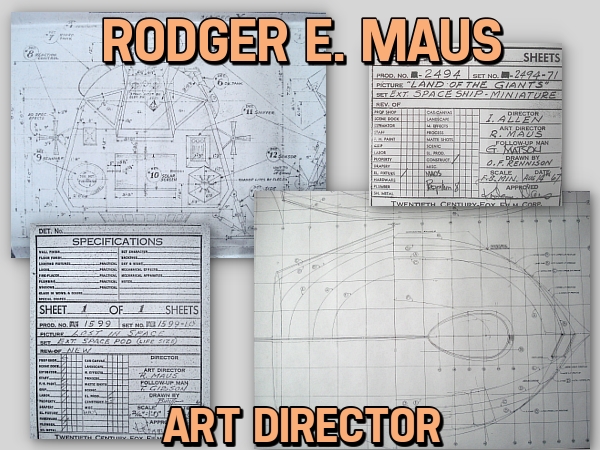 We were honoured to meet with Rodger Maus in 1992 in Los Angeles and he was a charming gentleman. Below is a photograph of Rodger reading our Land of the Giants 25th Anniversary Special.
GIANT CHAIR AT THE IDEAL HOME SHOW
If you made a visit to the Ideal Home Show this year, you will have found yourself in the Land of the Giants as you walked past the main entrance. There were several pieces of giant furniture outside the exhibition hall at Olympia so they were obviously catering for giants as well as little people.
LAND OF THE GIANTS RETURNS AGAIN TO THE UK
Land of the Giants returns to the UK Horror Channel on Monday 20th February 2017 at 3pm (Freeview 70, Sky 319, Virgin Media 149). Horror Channel website has yet to be updated with this information.
FRANCINE YORK
The Irwin Allen world lost one of its most active guest stars, Francine York, on 6th January 2017. She was a special guest in so many Irwin Allen productions including Lost in Space and Land of the Giants. In the IANN January 2017 archive, we take you down an Irwin Allen memory lane of some of Francine's appearances.
DON MARSHALL
It is with great sadness that we have learned from Celeste Yarnall that Don Marshall (co-pilot Dan Erickson in Land of the Giants) passed away on Sunday 30th October 2016 at Cedars Sinai Hospital at the age of 80. Don has been immensely active at events in recent years and was so enthusiastic about bringing Land of the Giants back to our screens. We are so glad that he was able to attend the 2011 Land of the Giants Commentary recording as that was a very important occasion and reunion in Land of the Giants history. He will be sorely missed by his many, many fans.
Don Marshall, Land of the Giants Season One
Don Marshall, Land of the Giants Season Two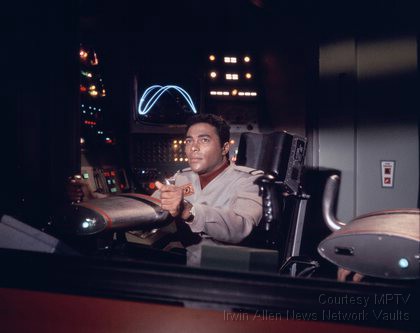 Don Marshall piloting the Spindrift (courtesy of MPTV)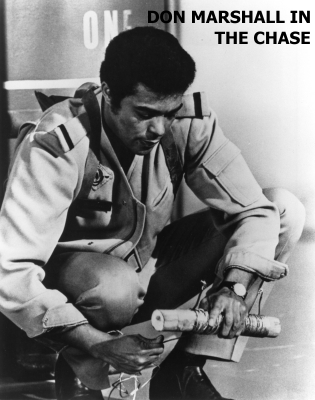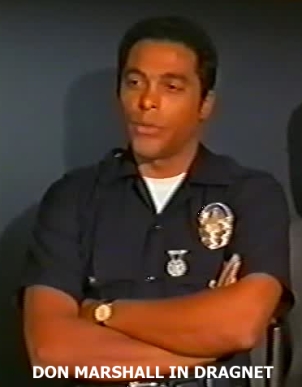 Tributes to Don Marshall
SOMETHING BIG IS COMING TO HORROR
Land of the Giants is back in the UK on the Horror Channel on weekdays at 12 pm and 8pm starting on 19th September 2016 (Freeview 70, Sky 319, Virgin 149, Freesat 138).
DEANNA LUND RADIO INTERVIEW
Deanna Lund is being interviewed on "Cult Radio A-Go-Go! Live" ; a.k.a CRAGG Live at 7pm PST, Saturday 20th February 2016. Check their archive for interview in the next few days.
TOUR OF THE SPINDRIFT
LAND OF THE GIANTS - THE COMPLETE COLLECTION
Revelation Films put together a Land of the Giants complete collection DVD set for the UK (PAL, Region 2) with both seasons and a new limited edition set of four collectible art cards. The set was released on Monday 5th March 2012.
Box art is courtesy of Revelation Films
UK Season Two DVD Box Set
Here's the new trailer from Revelation Films for the UK Season 2 DVD release of Land of the Giants which is now available in UK stores. Included on this DVD set is the exclusive and fun Land of the Giants cast commentary.
Land of the Giants Commentary
On Friday 8th April 2011, the cast of Land of the Giants gathered together in LA to create a very special treat exclusively for the UK Second Season DVD release which is due out in June. Stefan Arngrim, Don Marshall, Deanna Lund, Gary Conway, Heather Young and Don Matheson have recorded a really outstanding audio commentary which will appear on the second season DVD extras. This unique event showcases the delightful camaraderie between the cast members and is something we are very keen to extend to a convention in the UK.
Press release courtesy of Revelation Films and photos from commentary courtesy of Stefan Arngrim and Warren Kleiman.
UK Land of the Giants DVD
Revelation Films have created a trailer for the new UK DVD release of Land of the Giants. Season One is now available in UK stores.
Premiere of Night of the Cat
A little bit of Giants fun. Introducing Roscoe as "The Cat" in Land of Cat Giants episode Night of the Cat.
HOLLYWOOD SHOW
Deanna Lund and Neil Johnson have very kindly sent us these lovely photographs of the Land of the Giants cast at the October 2010 Hollywood Show.
Heather Young, Don Matheson, Deanna Lund, Gary Conway, Don Marshall and Stefan Arngrim at the Hollywood Show, 9 October 2010
Don Matheson, Deanna Lund, Gary Conway, Heather Young and Don Marshall at the Hollywood Show, 10 October 2010
Land of the Giants Events and Conventions
John P. Britton Gallery
Visit the John P. Britton Land of the Giants Gallery
Paper Models
Chiller Theatre April 2009
Deanna Lund, Heather Young, Gary Conway, and Don Marshall from Land of the Giants attended the 17-19 April 2009 Chiller Theatre convention in New Jersey. Click on the image or link below to view pictures from the event.
ScoutCon 2008